GLO Detangling Brush
Regular price

$18.00

Sale price

$18.00
Say goodbye to your old detangling brush that either wouldn't get through your hair or seemed to pull all of your hair out! The GLO Detangling Brush gently removes knots and tangles from all hair types and textures without stress. For those with tight coils and kinks, the GLO Detangling Brush is a happy medium between a wide-toothed comb and a detangling brush. Try it and see the difference for yourself!
Wide-Toothed

Enjoy effortless detangling with the GLO Detangling Brush, carefully designed to strike the perfect balance between a wide-toothed comb and a standard detangling brush. This unique feature allows the brush to effortlessly glide through all hair types, making your detangling process a breeze.
LARGE PADDLE

Experience the power of efficiency with the GLO Detangling Brush's spacious paddle design. Take on larger sections for your detangling routine and breeze through the process like never before!
SOFT NEEDLES

Indulge in gentle detangling with the GLO Detangling Brush's irresistibly soft bristles. Bid farewell to worries about scalp irritation or scratches, even if you have a tender head. Your comfort is our top priority.
FLEXIBLE STRUCTURE

Adaptability meets innovation with the GLO Detangling Brush's flexible core structure. It bends, curves, and adapts to your hair's movements. Plus, its hollow design ensures easy cleaning for added convenience.
DURABLE MATERIAL

Say goodbye to brushes that surrender to stubborn knots. The GLO Detangling Brush is crafted from sturdy and durable materials, built to withstand the test of time. With just one brush, you can enjoy years of reliable performance.
Share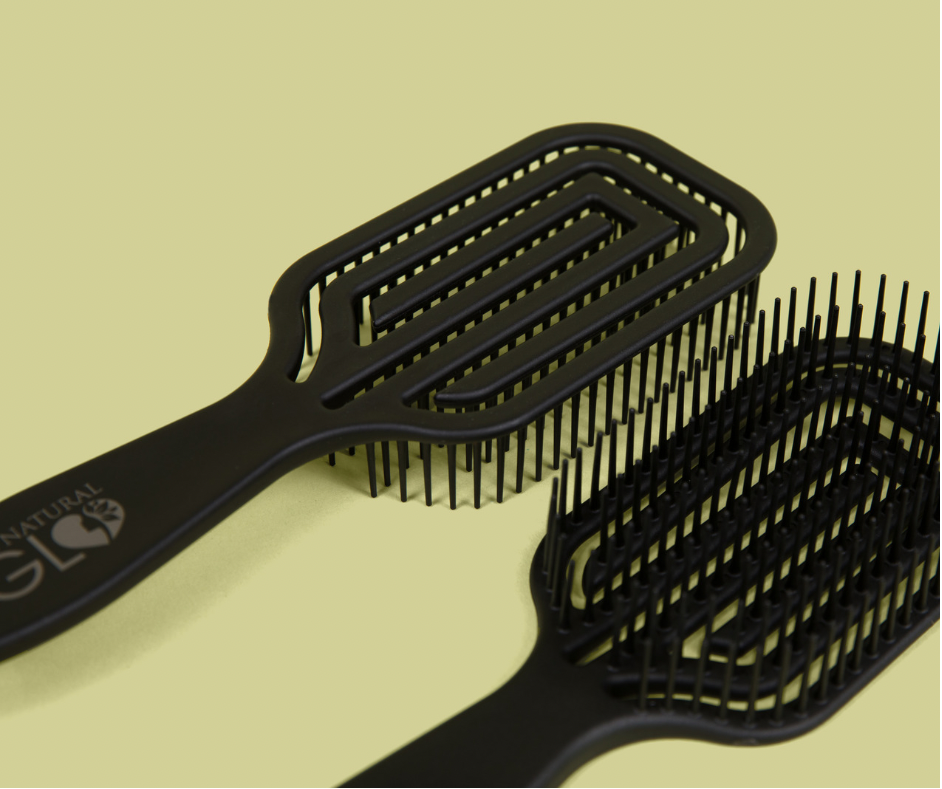 GLO Detangling Brush in Action!
FAQs
Will the GLO Detangling Brush work for my hair?

Absolutely!!

This is a family product, meaning the whole family can use it! The founder has kinky hair, her mother has coily hair, her nephew has curly hair, her best friend has wavy hair, her fiancé! has no hair... yet they all use and love the GLO Detangling Brush!

Try it and see the difference for yourself!
WHAT'S DIFFERENT ABOUT THE GLO DETANGLING BRUSH?

The GLO Detangling Brush is truly gentle. The owner of GLO tried out every major brush out on the market with little success, finding that most were either too harsh or simply pulled out her hair. The GLO Detangling Brush flexes, moves, and glides in response to each coil. It also has a much lower needle density than most detangling brushes, making it more of a wide-toothed detangling brush that will satisfy both loose waves and tight kinks.
HOW SHOULD I USE THE GLO DETANGLING BRUSH?

Your GLO Detangling Brush can be used to detangle and/or define your waves, curls, and coils. You can use the GLO Detangling Brush to relieve your hair of tangles at any step in your wash day. You can also use it to smooth your hair and defining your strands while styling. You can hold your GLO Detangling Brush horizontally, vertically, or in both directions, whichever is most comfortable for you!
DO YOU HAVE ANY TIPS ON HOW TO DETANGLE MY HAIR?

First, you should always finger detangle first to remove any shed hair and easy tangles.
Another tip, dampen your hair with a detangling spray or some water to make your hair more malleable.
A common method is to detangle your hair with a deep conditioner applied, but you can also complete this step with slippery rinse-out conditioner or a detangling leave-in conditioner.
Lastly, the way you detangle your hair depends on your hair density, strand thickness, and texture. If your hair is high density, coarse, or very tightly coiled, you should use smaller sections. If your hair is low density, fine, or loosely curled, you may have more flexibility to use larger sections.

Play around with the section size and see what works for you!